Country: Canada
Region:
Type: Rye
Bottler: WhistlePig Farm
ABV: 67.25%
Score: 94 points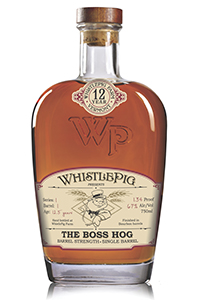 The first in a new series of limited-edition WhistlePig releases, this is a cask-strength single barrel rye whiskey bottled at 12 3/4 years old. The ABV will vary from bottle to bottle, depending on the original cask.
The nose is spicy and aromatic with a nice woody touch of toasted oak, along with roasted almonds, allspice, and brown sugar.  The taste has an intense blast of spices, including allspice, curry powder, and marjoram, but without overpowering the more delicate brown sugar and molasses sweetness underneath. Water opens up the sweetness while muting the spices only slightly. The finish is long and lingering as the spices fade away slowly. This is one you'll want to sip and savor.