Country: USA
Region: Kentucky
Type: Bourbon
Bottler: Distiller
ABV: 43%
Score: 92 points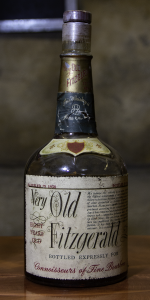 This original Stitzel-Weller bottling of Very Old Fitzgerald was distilled in 1958 and bottled in 1966 for sale in West Germany. As with all of the Old Fitzgerald Bourbons of that era, it was produced with a wheated mashbill, but this one is bottled at 43% ABV while those intended for the U.S. market were bottled at 50% ABV.
The nose is light and dry with notes of wheat bread, caramel corn, and a hint of malted milk balls. The taste is soft and slow to develop, but has a nice sweetness with caramel and maple notes followed by touches of white pepper, vanilla, and honey. The finish is long and gentle. Yes, it was in a bottle for 52 years, but this whiskey would hold up well in a head-to-head tasting with its modern counterparts. (June, 2018)
Thanks to Ryan Maloney at Julio's Liquors and Joe Hyman of Skinner for giving me a chance to taste this vintage whiskey.