Country: Scotland
Region:
Type: Blended Scotch
Bottler: Stonedean Ltd.
ABV: 46%
Score: 90 points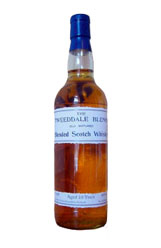 This whisky harkens back to the old days, with a nose that's spicy and warm with nutmeg, vanilla, hazelnut and dried grasses. The taste is a complex blend of cinnamon, caramel, vanilla, hazelnut, licorice, and dark chocolate. The finish is tart with touches of dark chocolate and caramel. Very nice and well-balanced.