Country: Scotland
Region:
Type: Blended Scotch
Bottler: The Last Drop Distillers
ABV: 46.7%
Score: 97 points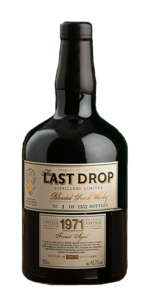 This rare whisky from The Last Drop has a unique story. The original whiskies were blended in 1983 for a 12-year-old Scotch Whisky destined for the US market, but the remaining stocks were refilled into 11 Oloroso Sherry butts and left to mature for nine more years. At that time, some of the whisky was used for a 21-year-old blend, and the rest was refilled into nine American Oak barrels and returned to the warehouse for 24 years until they were acquired by The Last Drop.
The nose has a soft oakiness with touches of honey, sandalwood, freshly polished wood, and cooked fruits. The taste is spicy, aromatic, and mouth-filling with great complexity. Spicy touches of clove, cardamom, and allspice are balanced by heather, honey, and berry cobbler. The finish is amazingly long with gentle spices, fruits, and a hint of oak. Superb! (October, 2018)