Country: USA
Region:
Type: Blended Bourbon
Bottler: Smooth Ambler Distillery
ABV: 46%
Score: 91 points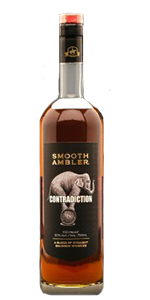 West Virginia's Smooth Ambler Distillery made a change to its Contradiction Blended Bourbon in mid-2018. It's still a blend of the 7-year-old sourced Bourbon used in its Old Scout releases with the distillery's own young Bourbon, but the bottling strength was reduced from the original 50% ABV to 46%. Fortunately, this is one of the rare cases where reducing a whisky's bottling strength results in an improvement.
The nose still has a good balance of spices and sweetness, with touches of oak, honey, clove, allspice, brown sugar, and a hint of cocoa. The taste starts off sweet and soft at first with touches of honey and molasses, but spicy notes start to build up gradually while not blowing out the sweeter notes underneath for an improved balance over the original Contradiction. The finish is long and sweet with lingering spices and a touch of oak. A good example of refreshing a brand with a slight change! (October, 2018)