Country: USA
Region: Kentucky
Type: Bourbon
Bottler: James Thompson & Brother
ABV: 60%
Score: 93 points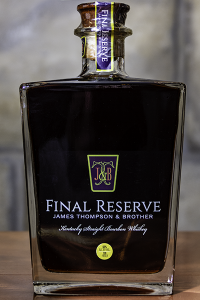 As of its release in early 2018, this 45-year-old whiskey is the oldest Bourbon known to have been bottled. It was distilled by the Thompson family at their Glenmore Distillery in the early 1970s, and was part of a parcel of barrels purchased by the family for their own use. It was eventually bottled as a project to raise money for veterans' charities and the Frazier History Museum in Louisville.
As one might expect with a Bourbon this old, the nose is dry, oaky and full of tannins, but also has touches of molasses, muted spices, old leather book covers, and pipe tobacco. The taste is mouth-puckeringly astringent and woody with intense black pepper spice, hints of tobacco and leather, toasted vanilla, and a wet cedar grilling plank. Water smoothes it out with a bit less astringency, but without dulling any of the spiciness. The finish is long and dry with lingering spices.
Admittedly, this is more of a historical curiosity than a great Bourbon, but still has plenty to recommend it. (June, 2018)