Country: USA
Region: Kentucky
Type: Bourbon
Bottler: James Thompson & Brother
ABV: 57.5%
Score: 92 points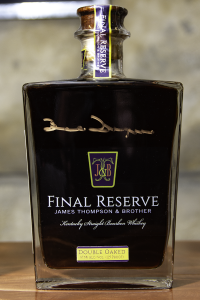 This is a slightly younger cousin to the James Thompson & Brother Final Reserve 45 Year Old Bourbon, and shares the same background story. It was also bottled to benefit veterans' charities and the Frazier History Museum in Louisville.
The nose is oaky, but not overly so, and is balanced well by touches of licorice, molasses, figs, a hint of vanilla, and sawdust. As might be expected, the taste is very dry, astringent, and dominated by oak tannins, but there are also touches of molasses and soft spices to balance the overall flavor out. Water opens this one up slightly, allowing the spices to come out more and revealing a touch of mint. The finish is medium-length, dry, and oaky, but there are also touches of sandalwood and anise as well.
As with the 45-year-old version, this is as much of a historical curiosity as it is a whiskey to sip. However, if you're fortunate enough to get a chance to taste it, it is well worth trying. (June, 2018)