Country: Irrland
Region:
Type: Single Pot Still
Bottler: Distiller
ABV: 54.7%
Score: 95 points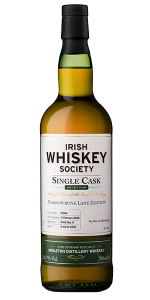 This Single Pot Still cask was distilled at Midleton in 2005 and bottled in 2016 for the Irish Whiskey Society to mark the centennial of the 1916 Easter Rising. It was named the Best Irish Single Cask Whiskey in the 2016 Irish Whiskey Awards.
The nose has subtle spices, honey, straw, dried flowers, butterscotch, and oak sawdust. The taste is classic pot still – viscous, oily, and spicy with white pepper, clove, and a hint of cinnamon along with hints of licorice, honey, apricots, butterscotch, and cocoa. The finish is long and dry with touches of licorice, apricots, and cocoa. Outstanding! (June, 2019)
Thanks to the members of the Irish Whiskey Society for sharing a sample of this whiskey.