Country: Czech Republic
Region:
Type: Single Malt
Bottler: Stock Spirits
ABV: 40.7%
Score: 92 points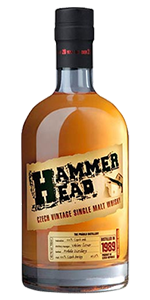 This is a good whisky with an even better story. It was distilled in Czechoslovakia months before the fall of Communism, and left ignored in a warehouse for nearly 21 years until the distillery's new owners discovered it. The nose is clean and light with a hint of hazelnut, light spices, and oak. The taste is smooth with lightly building pepper and caramel notes, hints of herbs and dried flowers. The finish is tart, smooth, and floral.