Country: Czech Republic
Region:
Type: Single Malt
Bottler: Stock Spirits
ABV: 40.7%
Score: 90 points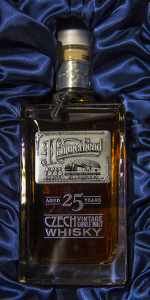 This whisky dates back to the dark days of the Warsaw Pact in Czechoslovakia, when a state-owned brewery near Pilsen produced single malt whisky that was put away and forgotten after the end of Communism. Eventually, Stock Spirits acquired the brewery, and found out about the single malt whisky that had been aging for two decades. This is the third release of Hammer Head, following the previous 21 and 23-year-old whiskies, and gets its name from the hammer-style mills used for grinding grain at the brewery.
The nose is very light, gentle, and floral with notes of rosemary, vanilla, and butterscotch…showing no signs of over-oakiness. The taste is light and tart with black tea, lemon, and honey, linseed oil, butterscotch, and dark chocolate. The finish is light, airy, and tart with nice citrus notes. (September, 2015)