Country: USA
Region:
Type: American Flavored Whiskey
Bottler: Eastside Distilling
ABV: 30%
Score: 83 points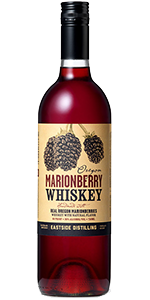 This whiskey won't be for everyone, and let's get that out of the way right now. It's technically not a whiskey, since it's bottled at 30% ABV and probably should be considered a liqueur. It's ruby-red from the Oregon marionberries used to flavor it with a taste somewhere between cranberries and raspberries on the berry spectrum…probably closest to elderberries.
The nose is dominated by the marionberries and a hint of vanilla, and most of the usual whiskey notes are muted to the barest whiff of aroma. The marionberry flavor also dominates the palate, with a slight tartness and a hint of licorice on the tongue. Once again, there aren't a lot of the usual whiskey notes to excite traditionalists. The finish is dry and dominated by berry tartness.
If I had been tasting this blind, I would probably have said it was a brandy, not a whiskey. That said, it stands on its own merits and is a quite pleasant dram. It's certainly a change of pace from regular whiskies. (February, 2015)