Country: Scotland
Region:
Type: Blended Scotch
Bottler: Compass Box
ABV: 46%
Score: 92 points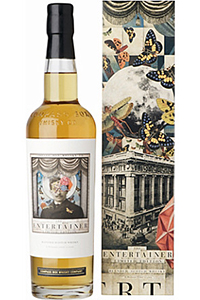 The Selfridge's department store chain in the UK commissioned this special blend from Compass Box to be sold exclusively in its stores, with only 1,000 bottles produced. "The Entertainer" refers to founder Harry Gordon Selfridge, who was a pioneer in department store merchandising, though we have no word on whether he was a whisky lover.
The nose is fruity with notes of red apples, peaches, pears, and nectarines, along with honey and vanilla underneath. The taste is thick and spicy with cinnamon and pepper notes balanced by fruity touches of apples and pears in the background, along with vanilla, toasted oak, and a hint of smokiness that add balance and complexity. The finish is dry and tart with apple and cinnamon notes that dominate, along with a hint of tart citrus fruits underneath.
Overall, a very complex and well-balanced whisky. (June, 2013)