Country: Scotland
Region:
Type: Blended Grain Scotch Whisky
Bottler: Compass Box Whisky Company
ABV: 53.5%
Score: 93 points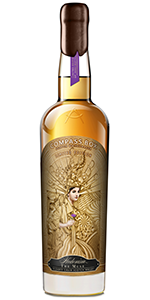 This is a new take on Compass Box's classic Hedonism blended grain Scotch Whisky. John Glaser and his team were offered a parcel of grain whisky blended and left to mature for 33 years in ex-Sherry casks, and while it didn't fit the traditional Hedonism taste profile, they blended it with grain whiskies from North British, Port Dundas, and Strathclyde distilleries ranging in age from 17 to 29 years old. What's more, instead of the usual Hedonism bottling strength of 43% ABV, they bottled it at a much stronger 53.5% ABV.
The result: a stunning whisky in every way! The nose on my sample has notes of fresh fruits, honey, berries, soft spices, and just a hint of oak. The taste is fruity and tart with citrus fruits, fresh berries, ginger root, and hints of honey and vanilla in the background. The finish is long, tart, vibrant, and luscious. Excellent! (March, 2018)