Country: Canada
Region:
Type: Canadian Whisky
Bottler: Beam Suntory
ABV: 45%
Score: 94 points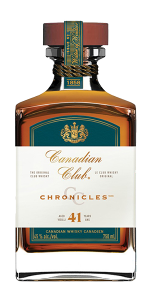 This 41-year-old Canadian whisky is the successor to 2017's Canadian Club 40, and is the second of a series that will include future 42, 43, 44, and 45-year-old annual releases. The whisky was distilled at the Hiram Walker Distillery in Windsor, Ontario in August and September of 1977, and is the same distillate as the 40-year-old. However, there have been subtle touches of aged Cognac, Rye, and Sherry from within the Beam Suntory family added to this edition.
The nose has a good balance of rye spices with fruity notes of apricots, apples, and peaches, toffee, and hints of caramel candy and vanilla. The taste is fruity and vibrant with an explosion of fruit and spices. Red apples, peaches, and dried fruits complement white pepper, oak tannins, honey and vanilla notes nicely. The finish is dry, subtle, and astringent with soft spices and dried fruits, and lasts for a long time. Excellent! (November, 2018)