Country: USA
Region:
Type: American Whiskey
Bottler: Sweet Amber Distilling Company.
ABV: 46%
Score: 95 points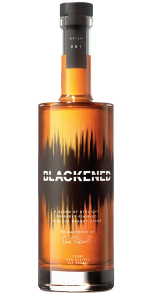 This may be Master Distiller Dave Pickerell's most controversial whiskey yet, created in collaboration with the members of Metallica and the sound engineers at Meyer Sound. Pickerell blended together several different styles of whiskies sourced from various undisclosed distilleries, then finished them in charred or "blackened" European Oak Brandy barrels. During the finishing process, the barrels were blasted with low-frequency "black noise" in playlists created by Metallica's four members to create vibrations in the liquid and alter its flavors in unique ways with each playlist.
These tasting notes are for Batch #83, and whether you believe the sound made any difference in the end, there's no denying that it is one helluva whiskey. The nose has a Brandy sweetness with apricots, dried apple chips, toffee, and caramel ice cream topping. The taste is very tart, fruity, and well-balanced with gentle baking spices, hints of apricots, dried apple chips, and caramel ice cream topping. It's not overwhelmingly spicy, but amazingly complex. The finish is long and aromatic, and the spices become slightly more apparent with subtle hints of clove and allspice balanced by a nice honey sweetness. Outstanding! (September, 2018)