May 7, 2016 – The downtown Distillery District in Lexington, Kentucky has become one of the city's bright spots, with restaurants, art studios, a brewery, and even the Barrel House Distillery as developers have given new life to buildings that were once part of the James E. Pepper Distillery. However, the historic distillery building that gave the district its name has mostly remained untouched – until now. Plans have been announced to restore the remaining space in the Pepper Distillery building and resume distilling its namesake whiskey once again.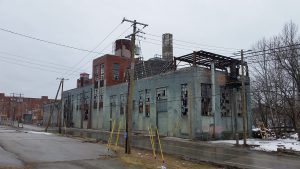 "We are very excited to not only have our own distillery, but to rebuild it in the historic James E. Pepper Distillery," said Amir Peay, founder of Georgetown Trading Co., which revived the James E. Pepper whiskey brand in 2008. Around that time, he began talking with the original developer seeking to revive the distillery building, which had been empty since Schenley closed it in 1958. At that time, none of the site had been redeveloped, and Peay toured the building with a longtime distillery engineer to evaluate the possibility of restoring it. "After we walked through the site, we came out, and the guy kind of turned to me and said 'you know, Amir, I don't want to talk myself out of a job, but you should just go and build a distillery in the middle of a field somewhere,'" Peay said in a telephone interview.
Listen to Mark Gillespie's interview with Amir Peay:
[whisky-audio src="http://whiskycast.com/files/Amir_Peay_interview_20160505.mp3″]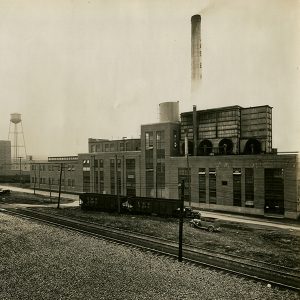 Six years later, with other buildings on the site already having been re-developed and thriving, Peay started working with the husband-and-wife team of Teri and Chris Kelly, who had purchased the main distillery building with plans to redevelop it. After 18 months of negotiations, the two sides agreed on a deal to bring the distillery back to life. Peay has signed Dave Scheurich to lead the restoration project, drawing on his extensive experience at Brown-Forman restoring the old Labrot & Graham Distillery in Versailles into today's Woodford Reserve Distillery. The goal is to have work completed by the end of 2017. While Peay declined to give specifics on how the project will be financed, he confirmed the project will not apply for tax incentives available through the Kentucky Economic Development Finance Authority, which has provided incentive packages for many of the state's recent distillery projects.
Peay's modern James E. Pepper whiskies are currently produced at MGP in Lawrenceburg, Indiana, and that is expected to continue after the Lexington distillery reopens. "It's not going to be a big distillery compared to the larger ones, and it just can't because of the location in the city and the logistics and limitations," he said. Instead, Peay is considering the idea of blending a small amount of the Lexington-produced whiskey into his MGP stock, while using the rest to bottle under a different label for sale both at retailers and at the distillery's gift shop. Peay has acquired a large collection of Pepper-related historical documents, photos, and other archival material that will be featured in the distillery's museum and visitors center.
Editor's note: This story was updated to clarify that whiskey distilled at the James E. Pepper Distillery will be bottled under a different label and available for retail sale. 
Links: James E. Pepper