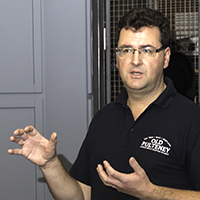 Stuart Harvey has been the master blender for Inver House for nearly 11 years, and he's living proof that you don't have to be born into the industry to become a master blender. He started out making beer, but made the switch to whisky and never looked back. He'll join us for this week's WhiskyCast In-Depth to discuss the art of blending, and how it's just as much of a challenge to create a Single Malt expression as it is a Blended Scotch.
In the news, Chip Tate has won a key battle in his bid to regain control of Balcones Distilling, thieves strike a whisky warehouse near Glasgow, and the Kentucky sheriff investigating last year's Pappy Van Winkle theft is convinced it was an inside job…but needs more evidence before he can make any arrests. We'll also look at the week's new whiskies, and this week's tasting notes feature the new Jura 1984 and Douglas Laing's new Timorous Beastie Highland Blended Malt.
[whisky-audio src="http://whiskycast.com/files/WhiskyCast_20141115.mp3″]
Links: Inver House | Hankey Bannister | Old Pulteney | Balblair | anCnoc | Speyburn | Balcones Distilling | Daily Record | Old Rip Van Winkle | WLKY-TV | Laphroaig | Glenmorangie | Jura | Scottish Leader | Diageo | Old Forester | Early Times | Douglas Laing & Co.